Pets @ Oceansfree.Com
Welcome to my new and improved "Pets Only" site. Here I will discuss what's near and dear to my heart.. Cats & Dogs.

Click on the logo below to find jokes, poetry, information and links to the Vancouver SPCA. I also invite you to meet my favorite pets, past and present, as well as my points of view on issues such as spaying/neutering and declawing. Welcome! Enjoy your stay!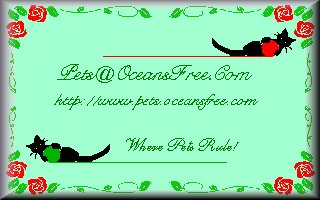 If you would like to know more about me, or the people in my life visit us at:
Ally's Pet World
Please feel free to leave me a message and tell me what you thought of my site: