Home Page/ Pets/ Cats/ Dogs/ Dawgz & Catz/ SPCA/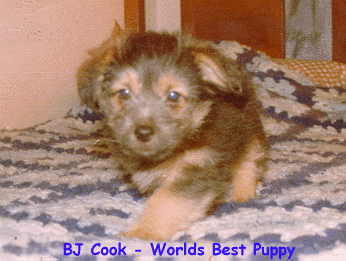 B.J. Cook 1979-1987
A Tribute To B.J.



B.J. Cook wasn't a pedigreed show dog, he didn't come from a illustrious lineage or anything fancy, yet he was an important member of our family from the time we brought him home as a wobbly legged puppy, until the day we had to say good-bye. In many ways he is still with us.

B.J. was named after a character of a 70's t.v. show called "B.J. And The Bear", but we have another t.v. show "The Littlest Hobo" to thank for our having B.J.

We hadn't had a dog for a few years, and one night when I was about 9 years old we were watching "The Littlest Hobo", a show about a dog who travels the country helping people out, my dad finally caved in and told us we could have a dog.. as long as it was a small one, and so B.J. came into our lives...

His mother was a purebred Corgi.. his father was a traveling salesman.. the closest I can figure is a cocker spaniel/yorkshire terrier mix. B.J. had the build of a corgi.. but the rest we leave to speculation!

B.J. was convinced he was a human. He loved human food(carrots, cabbage, ice cream, and whatever else we were eating), slept in a human bed (mine), and loved to go shopping, travelling, and visiting. The only human thing he didn't like was GETTING BATHS!!

B.J. was my best friend, my confidant. He was more than just a dog, he was a gentle, playful friend who I have never forgotten, and never will.

B.J. left us too early at the age of 9 from a lung infection. He gave us so many happy memories and we will always miss him and his sweet face.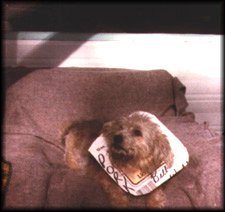 This is the last picture we have of B.J.

---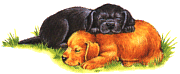 email me at jusan@zubee.com!