Susan's Foster Kittens

Do you love animals, but can't commit to a full time pet? Do you have room in your heart for more than one animal? Fostering pets for your local shelter is a rewarding, sometimes hair raising experience. Before I got Ally I fostered a number of kittens, most of whom were too small for adoption. It was really hard to give them back, but they all got adopted, and I felt I had really made a difference. Call your local SPCA or Shelter for more information. Here are a little bit about those meowsers who graced my life but for a short time.


Little One - Little One was my first foster kitten when I was still a volunteer, and sadly she was with me but one day. A stray, and barely 4 weeks of age, she had already started to cross over the rainbow bridge when I took her home. My only comfort was I gave that tiny little tortoiseshell baby one good night of loving, cuddling and a warm lap before her little soul passed over to the other side...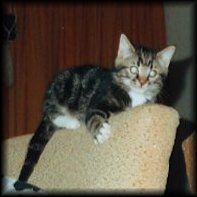 Silly Kitty - Definitely my boyfriend's favorite. An 8 week old brown tabby with a cold. He was also from the shelter, but I couldn't leave him in the shelter and risk him being put down because he had a cold. We had him for 2 weeks. I called him "Psycho Cat".. full of non-stop energy, and that goofy side stepping kitten run that silly cats are good at. He got adopted within 1 1/2 hours of me taking him back. I cried all the way to the shelter.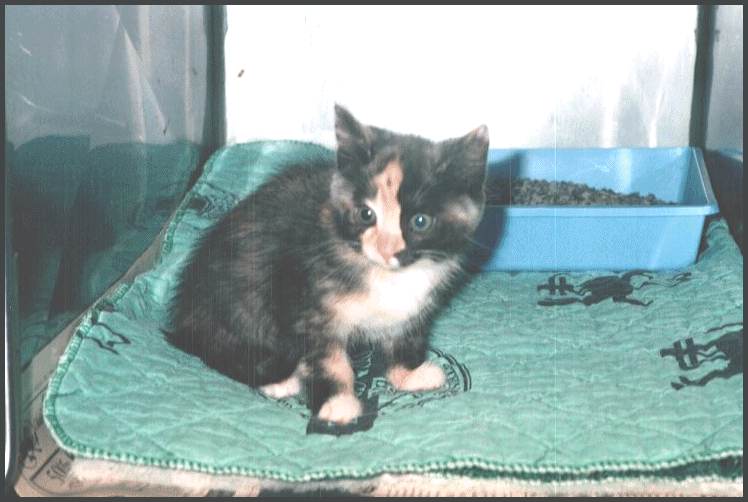 Squeak - My second Tortie baby. She was also just 4 weeks old, but unlike Little One, she was a fighter. A Toe Chomper, stubborn little cuss.. she was also known as "Pipsqueak" and "Kitty Justice". We had her for 4 weeks and took her back to the hospital where I fostered her from triple her original size and full of cattitude!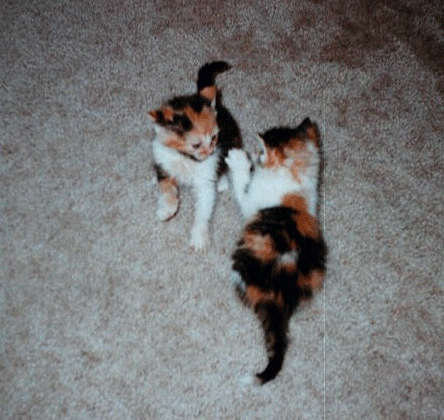 Lucy & Ethel - Sister foster kittens - two little kittens who came to me at barely 5 weeks old. In the summer the hospital is bursting full of tiny kittens and I had to take a few home. Lucy is the calico kitten..fat as a butterball (thanks to non-stop feedings), very vocal and affectionate. She proved to be a challenge to litter train though! Ethel is the torbie (tortoise shell/tabby)and the quieter of the two. Still, she was my favorite.. very sweet, loved to be groomed and cuddled.

I finally adopted my own fully grown cat from the hospital in September of '98, but I still encourage anyone with spare time to foster cats or dogs of any ages from their local shelter, humane society or clinic that needs it.. or to adopt a pet from a shelter instead of encouraging puppy mills or home breeders.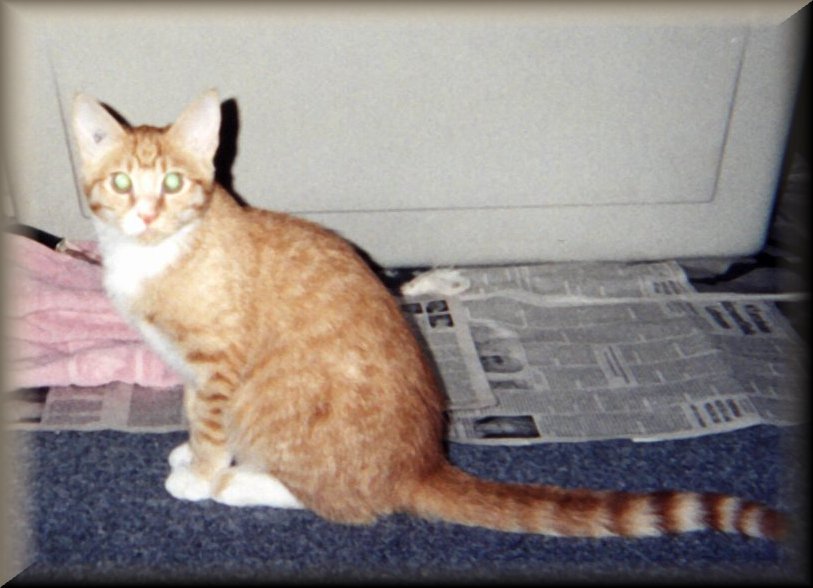 On August 15th, 1999 we brought home a new foster kitty. He was the oldest yet, at 4 1/2 months. I called him Buster. He was a beautiful orange and white tabby with a broken leg. Someone actually threw this sweet, affectionate little guy against a wall!! :( Ally couldn't stand him at first but by the end she got used to Buster and would play chase him around the house. When he had healed up he was neutered, and ready for adoption. He was adopted within 2 days (although I really wish I had kept him!!!)